Homepage
Enroll Into The Handwriting Analysis
Training Course Today
If you are curious about scientific handwriting analysis… you are in the right place. Imagine if you have the ability to look at anyone's handwriting and spot their deep dark secrets, fears, esteem, honesty, fetishes, sex drives, and dozens of other hidden personality traits. We are the world's largest school to get certified and start a successful career as a handwriting expert, trainer, teacher, or life design coach. Enroll now for the upcoming semester.
Just Announced. Now taking enrollments for the new 2017 Certification Level Home Study Course. Upgrade from previous versions or get enrolled now.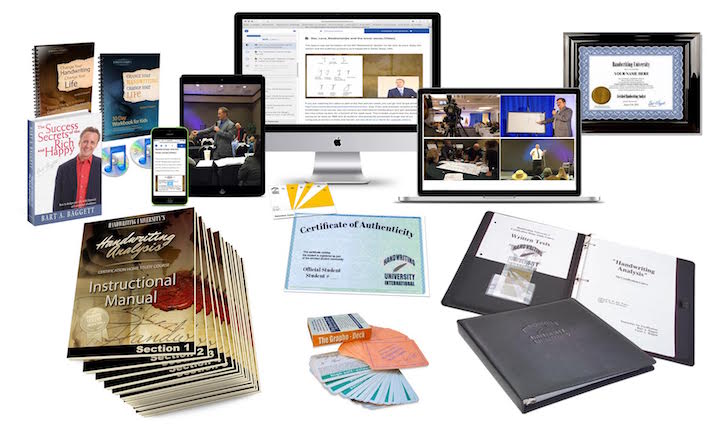 Click here to subscribe to the Handwriting University Video Newsletter

– Handwriting University.com
P.S. If you are not a beginner, you can always bypass this free beginner online course and get started into one of our more advanced Certification Level Courses from our same training curriculum. You can get a personal mentor or study 100% online.
---
Other Resources
---
The Handwriting Analysis Online Training Course for Beginners. Hosted by Bart Baggett
(click to read more and purchase)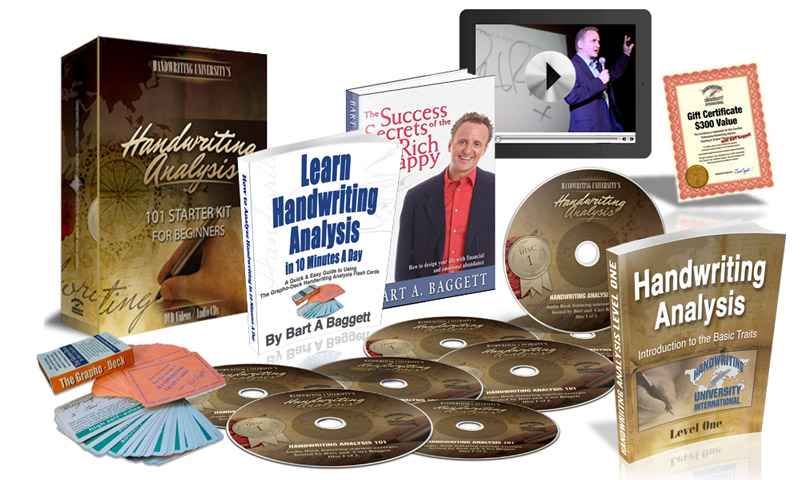 Bart Baggett's best selling books on handwriting analysis and personal growth. See full catalog of books and courses here.
Get Your Handwriting Analyzed Right Now for Free using the
HandwritingWizard.com online software.
---

Questions?
Handwriting University International Headquarters
Los Angeles, CA 91423
Telephone 310-684-3489 Ext 2

Already a Member?
Members Login Here.
Access Wordperss Membeares and newsletters here.

LOGIN here the new 2017 Teachable Site with 101, 201, 301, 401, and Authorized Mentor Training.
©2017 by Handwriting University, All Rights Reserved. Bart Baggett
| Privacy Policy | | Terms of Service | Refund Policy |
Certification Level Training Course & Full Course Catalog | Contact Our Support Team |